Recent Posts
11
« Last post by RAGIII on Today at 05:25:45 AM »
What can I say but amazing work!
RAGIII
12
« Last post by RAGIII on Today at 05:24:09 AM »
Really Stunning build! You have done such an outstanding job with this one that I feel I have to make a comment that normally I would not! Your final photos do not show the beauty of your build. As someone who sucks at photography I don't know what to suggest but your In Progress photos looked much better, IMHO. I hope No Offense is taken here as I enjoyed your build and the photos included! Very Impressive Model!!!
RAGIII
13
« Last post by RAGIII on Today at 05:16:34 AM »
Awesome!
RAGIII
14
« Last post by Gisbod on Today at 04:07:22 AM »
Thank you!
The Gladiator got finished and had its own completed model topic

The attention is back to the Siskin as my masks have arrived!

Thanks Fredrik. Little bit more background detail painting applied before I make a start on the markings. They will be a bit of a challenge as they're complex and small!
Guy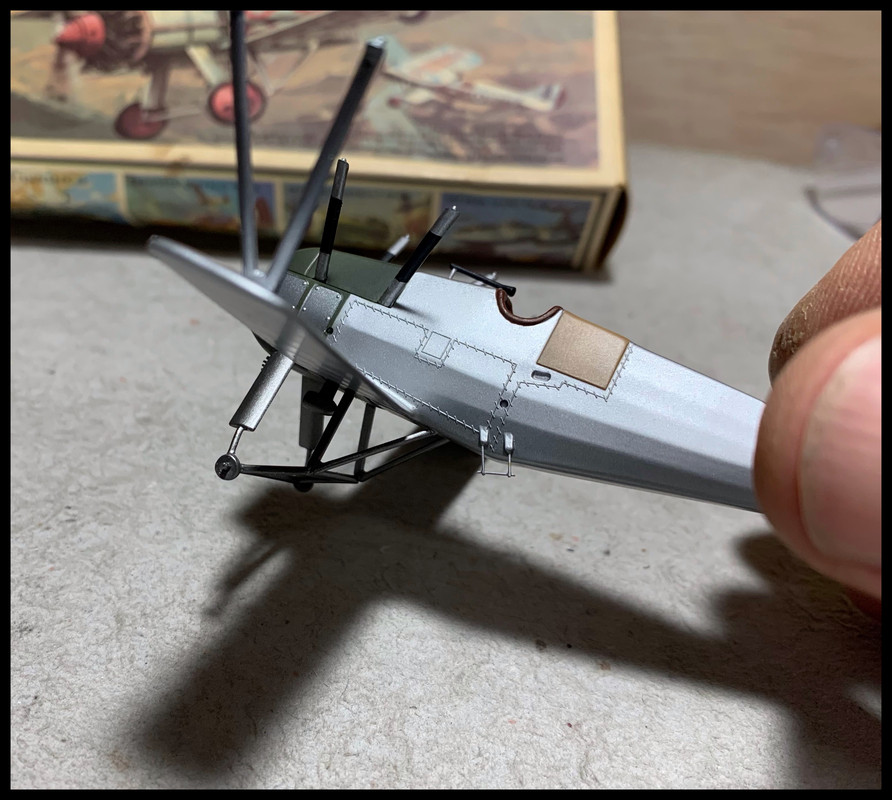 15
« Last post by RLWP on Today at 03:53:11 AM »
All I can say is this is looking Brilliant! Your progress is amazingly quick with No Loss of quality!
RAGIII

Thank you. And I've said this before, scratchbuilding is relatively quick.
Richard
16
Wingnut Wings 1/32 Chinese Nationalist Polikarpov R-1 finished. The aircraft only has one very blurry photo so i had a decent amount of freedom. Decals are provided by Pheon Decals. Not sure when i will do another Polikarpov R-1 so i hope i did it justice with this one, I decided to model it with one of the lower engine panels lowered similar to how i saw it in a photo. Unfortunely some of the details dont show up well in the photos such as the underside weathering and the overpainted soviet stars on the top wings.
Hope you like it
17
The build is now finished, check it out on the finished post section
Thank you for reading
18
Stunning paint work. The markings look exceptional as does the subtle weathering/ shading!
RAGIII

Thank you
What a great build. I like the painted over stars a lot.

Thank you, it cant be really seen in the final photo unfortunately
The colour and tonal variation looks perfect!
The painted over starts on the upper wing are subtle, yet effective.

Cheers,

Hugh

Thank you
19
« Last post by Bughunter on Today at 03:26:54 AM »
Tail
To be able to prime and paint fuselage and wings I need to sort out the tail.
Those are the tail parts. Not bad, only the mounting is not easy because of the special position of the tailplane. And I cannot mount it now, because the lower surface of the tailplane needs linen, the other surfaces PC10.
So I used a fine resin saw and cut all in single parts. The control surfaces are now pinned (which was not easy because all parts are thin). All pictures shown the tail control surfaces down, so I can do that now.
I replaced the resin wedge with a new one and pinned all.
Now all of this crazy tail fits and can be easily mounted after painting.
I like the look!
As I have just cut off all the control surfaces at the tail (which I actually always do, as it makes a model much more realistic and lively), I then cut off the ailerons. I didn't dare at first because they are so delicate. Now they are pinned with 0.3mm brass.
Fortunately only the two upper wings have ailerons.
Only a little progress, but it was a lot of work with fine saw and drills.
Cheers,
Frank
20
« Last post by Bughunter on Today at 03:21:26 AM »
This nice figure is another enhancement of the final result!
Frank Roden has an exact copy of this kit in 1/48th so you have No Excuse not to do one someday
Rick, that kit is in my stash! I have only the excuse, that I hope for a Gnome-N made by Small Stuff, which is not available now. I have enough kits with available engine types, so I'm really busy during waiting

Cheers,
Frank